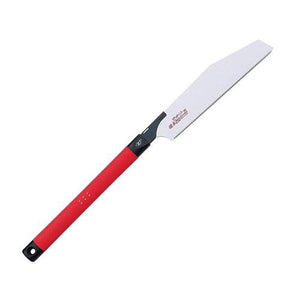 CARPENTER SAW H-250 BLADE NO Z-15204
$6500

$65.00

SKU:

Z-15069
---
---
Cuts on the pull action making cutting easier.
Comfortable handle.
Light weight.
Replaceable blade that is easy to remove and fit. Replacement blade Z-15204
Thin kerf means minimal material is removed.
With specially designed robust and sharp teeth, this saw is ideal for cutting hardwoods such as Blackwood, Oak, Ebony and Maple. The Universal tooth design allows both rip and cross cutting tasks to be completed.
These saws are hardened through the "Hard Impulse" treatment to increase the degree of hardness to the level of HV800-950 which is the maximum hardness that can be achieved on steel. Implementing this treatment on the tips of the saw teeth means that they are able to stay sharp much longer than conventional counterparts while the core of the blade remains both flexible and tough to prevent bending or buckling during use.
This Japanese Hardwood Carpenter Saw features a rubber wrapped handle that allows extra grip when completing long steady cuts into tough materials.
Replacement blade is Z-15204.
| | |
| --- | --- |
| Brand | Japanese Tools |
| Blade Length | 250mm |
| Blade Type | Universal |
| Blade Kerf | 0.5mm |
| Teeth Per Inch (Tpi) | 14 |