DSC 125mm Diamond Cutting System in Systainer with 800mm Guide Rail
$89900

$899.00

SKU:

576549
---
---
Features
Precise cutting without dust.
The diamond cutting system with a cutting depth up to 27 mm. With this system dusty atmospheres during cutting and sanding work become a thing of the past. The harmful dust is reliably extracted, the user's health is protected thus enabling free view of the workpiece. Together with the matching accessories and the consumables the optimal solution for efficient, cleaner and precise work is created.
Cutting system with efficient dust extraction, protects health
Guide table with easy-running rollers for accurate guidance along the workpiece
Vision panel provides a clear view of the cutting line
Plunge cut function: start cutting at any point on the workpiece
Suitable for use with Festool guide rail for precision cutting
Main applications
Quick and dust-free cutting of mineral materials
Sections for doors/windows, expansion joints in floor areas, grooves for pipes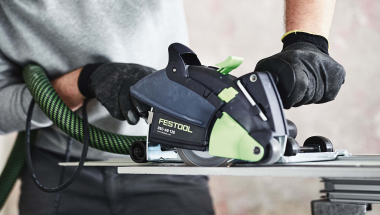 Unbeatable precision
The DSC-AG 125 diamond cutting system with its efficient dust extraction system protects your health when working. In combination with the Festool guide rail, precise cuts can be made to doors, windows, grooves and expansion joints in the floor area.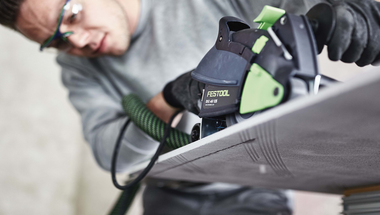 Cutting building materials with minimal dust
With the DSC-AG 125 diamond cutting system for clean and precise work up to a cutting depth of 27 mm.
Precise and clean
Thanks to the plunge cut function on the DSC-AG 125, the cutting can commence at any point on the floor.
Dust-free even without a rail
The addition to the diamond cutting system – the DSC-AG 125 FH freehand cutting system for free-hand cuts on mineral panel materials, when repairing cracks or carrying out repairs on masonry. Even close to the edge.
Tech Specs
Front Clearance (mm) 16.00 mm
Side Clearance (mm) 23.00 mm
No Load Speed (rpm) 3?500 - 11?000 min?¹
Dust Extraction Connection Diameter (mm) 36/27 mm
Power Consumption (W or kW) 1?400 W
Disc Diameter (mm) 125 mm
Cutting Depth (mm) 27 mm
Includes
1 x DSG 125 125 mm Diamond Grinder
ALL-D125 Premium Cutting Disc
Extraction hood DCC-AG 125 FH
Auxiliary handle VIBRASTOP