FS Guide Rail with Adhesive Pads 1900mm
$44900

$449.00

SKU:

577044
---
---
Features
Invented and perfected by Festool: The guide rail with adhesive pads. Allows users to make straight and precise cuts when carrying out horizontal work on floors or work surfaces, as well as for applications on walls. Easy to secure of different surfaces using the adhesive pads. It is easy and practical to transport two guide rails since they can be inserted above the Systainers carrying handle. The FS/2-KP guide rail is available in lengths of 1400 mm and 1900 mm.
Secure grip: The guide rail with adhesive pads – precise and safe sawing even in difficult positions
Practical to transport – the guide rail can be inserted above the Systainers carrying handle
Splinter-free cuts – the rubber lip right at the scribe mark prevents the edges from splintering even with angled cuts
Coating for smooth running on the machine
The adhesive cushion strip protects the workpiece surface from being damaged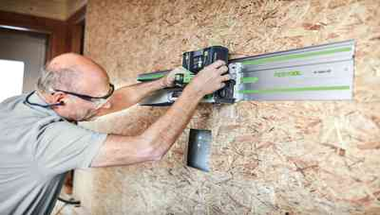 In any position
The adhesive pads can be used to secure the guide rail to work surfaces, floors and walls. This means that straight cuts can be made in any position.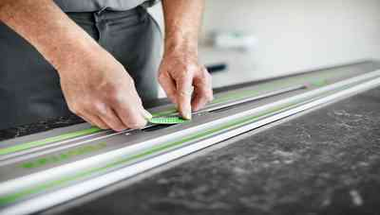 Adhesive pads for a secure hold
The adhesive pads are quick and easy to install in the guide rail cut-outs. Align the guide rail, press down the adhesive pads – and you're ready to start work.
Remove any residue
Even on delicate surfaces, the adhesive pads are easy to remove without leaving unwanted residues and without damaging the surfaces.
Transportation
It is also simple to transport two guide rails above the Systainers carrying handle thanks to the cut-outs in the guide rail.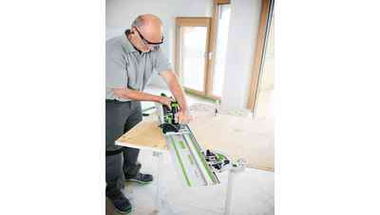 Angle stop for precise cuts
The angle stop can quickly be attached to the guide rail without tools. For precise angled cuts from -60° to +60°
Precision angle transfer
By using the combination bevel along with the guide rail, angles can be directly and easily marked on a workpiece – without a great deal of calculation and effort.
Exact grooves
Using the router with the stop allows you to produce precise, straight grooves. Place directly on the guide rail and start routing.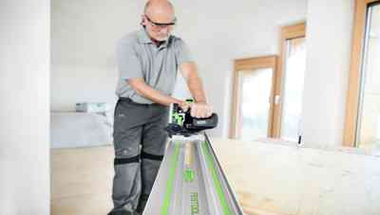 Zero-play guidance
The guidance jaws of the circular saws can be adjusted to fit the guide rail without tools. This allows the machine to be guided without play and produces exact cuts.
Connect comfortably
The self-aligning connecting piece makes it quick and convenient to connect two guide rails so that they are straight. For long, straight cuts and perfect work results without deviations.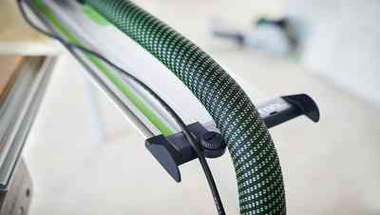 No getting caught
The deflector prevents the suction hose and cable from getting caught up on the end of the guide rail.
Tech Specs
Length (mm) 1900mm
Includes
FS-KP/30 adhesive pad
FS/2-KP Guide Rail 1900mm