TID/T 18 18V 2 Piece Impact Driver and 2 Speed Drill Driver Bluetooth 4.0Ah Set in Systainer
$1,12900

$1,129.00

SKU:

577246
---
---
Features
Features
This compact powerhouse offers an impressive service life thanks to its extremely robust hammer mechanism. The perfect combination of the new generation brushless EC-TEC motor and the battery pack ensure maximum performance and endurance. In addition to this, the TID 18 with 1/4" tool holder turns the screw without straining your wrist " thanks to the tangential hammer mechanism with no strength sapping back torque. The machine weight of just 960 grams also allows you to work for longer without becoming tired.
Robust: Long-lasting quality components, also fully covered thanks to the comprehensive support provided by Festool Service
Maximum power: Thanks to the extremely powerful, brushless, and therefore long-lasting, latest generation EC-TEC motor with three speed levels, 180 Nm torque and additional T-mode specifically for self-tapping screws
Safe: kickback-free tangential hammer mechanism protects your wrist
Ergonomic: compact design enables you to work accurately and for longer without becoming tired, even in hard to reach areas
Flexible battery system: For applications with high power needs, the 4.0 Ah Li-HighPower Compact battery pack provides the ideal powerful, compact and lightweight solution. For even less weight, opt for the 3.1 Ah Compact battery pack for light screw joints
Convenient: tool-free 1/4" holder, integrated bit storage, optimum LED illumination of the work area, belt clip for attachment on both sides
Mobile: packed in a Systainer³, the TID 18 can be integrated perfectly into the bott vehicle fixture for easy transport from the body shop to the building site
Main Applications
Screwdriving work that protects your wrist, with no reverse torque
Furniture assembly and kitchen fitting
Installation of fittings, rear walls, strips
Installation of doors and windows
Screwdriving in wood, metal and plastic
Fences, pergolas, carports, canopies
Production of wooden substructures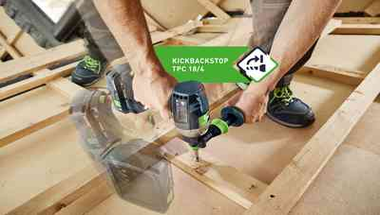 Greater safety when working
The electronic kickback stop prevents your wrist from twisting dangerously if the drill suddenly becomes caught or jammed, therefore ensuring improved safety when working.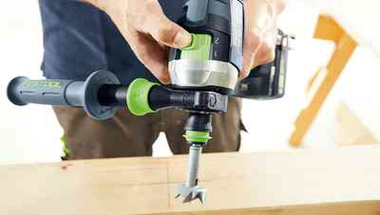 The QUADRIVE – four gears, with the right one for every application
1st gear: Demanding tightening of screws up to 10 mm. 2nd gear: Quick screwdriving up to 8 x 300 mm in size. 3rd gear: Powerful drilling with auger bits of up to 20 mm. 4th gear: Quick drilling with medium and small drill bits up to 35 mm, for example Forstner drill bits.
Optimised gear switching
Fast, safe, direct! Switching in any direction – from any gear straight to any other, without intermediate stages. Fixed stops ensure clear engaging. Fast downshifting possible as required.
Increased power in 2nd gear
40% more torque compared to the previous model for full traction with 8 mm screws.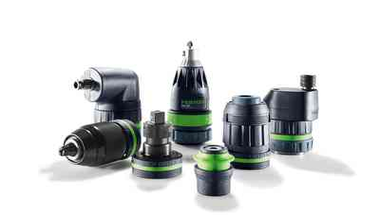 QUADRIVE: Unique system width and perfect system compatibility
Thanks to the smart FastFix interface, you can use all of the 18 V attachments from the Festool range and therefore benefit from the system advantages. No other drill has such varied possible uses!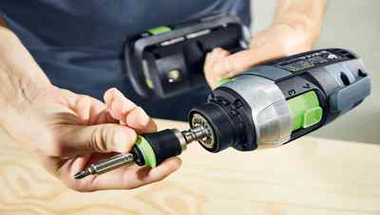 CENTROTEC tool chuck – for even more speed at construction sites
For instantly changing between drilling, countersinking and screwdriving: The CENTROTEC tool chuck, which has proven itself since 2001, is a chuck and bit holder in one. Even though it is half the size and weighs 80% less than a standard chuck: A real Festool invention with the usual Festool quality.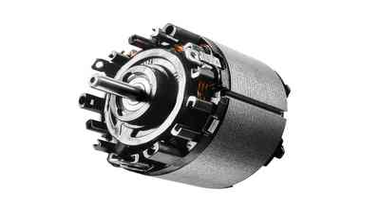 Latest generation of brushless EC-TEC motors
The brushless EC-TEC motor is wear-free and converts the energy from the battery into optimum power with virtually no losses. The electronic motor management also guarantees maximum service life: Microprocessors monitor and control the temperature, voltage and current consumption of the motor, electronics and battery. The latest generation of EC-TEC motors provides more torque and speed under load.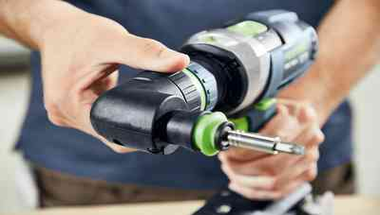 Practical attachments with quick angle adjustment
Very quick angle adjustment simply by rotating the green ring. The attachment no longer needs to be released from the machine. Even the eccentric adapter for screwdriving close to edges is equipped with quick angle adjustment.
Convenient for day-to-day use
Optimised torque adjustment to prevent accidental adjustment. A robust belt clip that can be attached on both sides and a bit holder for secure and magnetic bit storage at the side of the drill.
Perfect ergonomics – both compact and powerful
Thanks to its smaller circumference, the optimised handle ensures improved ergonomics and easier handling.
Tech Specs
Tool Weight (kg)
TID 18 - 1.3 kg / TI 18 - 1.9 kg
Drilling Diameter Steel (mm)
TI 18 13 mm
No Load Speed 1st Gear (rpm) TID 18 - (rpm): 0 - 1200 min / TI 18 (rpm): 0 rpm - 450 rpm
No Load Speed 2nd Gear (rpm) TID 18 - (rpm): 0 - 2000 min / TI 18 (rpm): 0 rpm - 1,500 rpm
Drilling Diameter Wood (mm) TI 18 45 mm
Battery Capacity (Ah) 4.0, 5.2, 6.2 Ah
Power Consumption (W or kW) TID 18 - / TI 18
Battery Type ie. Lithium-ion Lithium-ion
Gears TID 18 - 3+T-Modus / TI 18 - 2
Torque Adjustment 1st Gear (Nm) TI 18 0.8 Nm - 8 Nm
Torque Adjustment 2nd Gear (Nm) TI 18 0.5 Nm - 6 Nm
Maximum Torque Wood (Nm) TI 18 35 Nm
Maximum Torque Steel (Nm) TID 18 - 180 Nm/ TI 18 50 Nm
Chuck Range (mm) TID 18 - / TI 18 1.5 mm - 13 mm
No Load Speed 3rd Gear (rpm) TID 18 - (rpm): 0 - 3200 min / TI 18
Maximum Impact Rate (imp) TID 18 - (imp): 4 500 min / TI 18
Includes
TID 18 Cordless Impact Driver
T 18 Cordless Drill Basic
2 x 18V Li-Ion 4.0 Ah Airstream Bluetooth High Power Battery Pack
Rapid Charger TCL 6
2 x Belt Clip
Systainer SYS3 M 237
Tool Manual