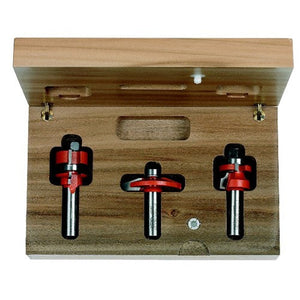 CMT 3PCE SMALL ARCH DOOR SET 1/2S
$33000

$330.00

SKU:

800-524-11
---
---
800.524.11 - These 3 piece sets will produce beautiful raised panel doors with a classic, bevelled profile, and are designed for use in fine furniture making. Sets include two matched cope and stick bits for producing frames from 15.87mm (5/8") to 19mm (3/4") thick.
The stick bit shapes a decorative 4.76mm (3/16") thumbnail moulding along the edge of the frame. The panel bit is designed for 12.7mm (1/2") think material.
All bits feature guide bearings for shaping curved work such as the small arched panel doors seen on secretaries and corner cabinetry. These sets also produce panels for small chests, lids for small boxes, or drawer fronts.
Tip: When using raised panel bits, rather than moving the router table constantly after each shallow pass, cut several 3mm shims of MDF or similar material to fit against the router table fence. This will limit the amount of material that can be removed in any one pass, and minimise the amount of fence adjustments needed.
Safety tips: the larger bits should be used between 10.000 and 12.000 RPM, three to five passes recommended. To be used with routers with at least 1700W (2-1/4 HP).
Instructions included.
| | |
| --- | --- |
| Brand | CMT |
| Shank Size | 1/2" |