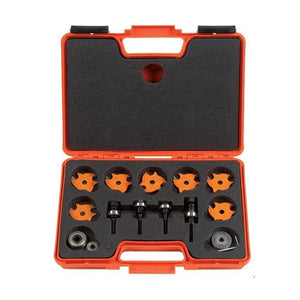 SLOT CUTTER SET 14 PART 1/2 7BEARING 4SHAFT 7CUTTERS CMT
$44100

$441.00

SKU:

823-001-11
---
---
The CMT Slot Cutter Set is the ideal set for anyone cutting various sized slots. It features 4 different bearings sizes allowing four depths of cut (7.95mm, 9.55mm, 12.8mm and 14.3mm), with a total of 7 bearings and 4 arbors allowing different cuts to be performed.
Shims are also provided allowing the cutters to be spaced to give the exact desired with of cut, and all arbors are 1/2" shanked. 
All parts have their own place in the foam inserts in a sturdy plastic case.