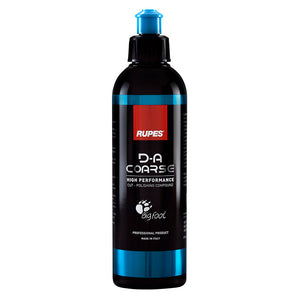 HIGH PERFORMANCE EXTRA CUT COMPOUND GEL 250ML
$3600

$36.00

SKU:

9.DACOARSE250
---
---
D-A COARSE is the latest high-performance compound from RUPES designed for maximum efficiency. This fast cutting compound is ideal for users who want quick defect removal and smooth user experience on every type of paint.
The formulation is optimised to achieve the best performance if used with RUPES Coarse Blue Foam, DA Wool Pads, or Coarse Microfiber Discs, together with BigFoot Dual Action Polishers, including both random orbital and gear-driven tools.
Key features include:
– High-performance cutting compound;
– Durable lubrication system for an extended polishing cycle and longer working time;
– Low dusting formula reduces post-compound cleanup work;
– One-step moderate-to-severe defect removal and finishing on most paints; and
– Sanding mark and severe defect removal.