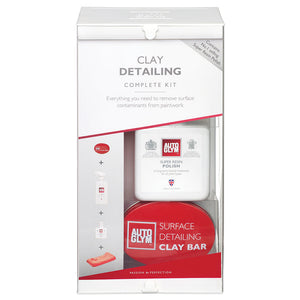 SURFACE DETAILING CLAY KIT
$10200

$102.00

SKU:

AURCBKIT
---
---
CLAY DETAILING COMPLETE KIT
This kit contains a Surface Detailing Clay Bar together with an instant detailing lubricant (Rapid Detailer). Use in conjunction to remove embedded road grime, tar, tree sap, overspray, industrial fallout and other common paint contaminants.

The Surface Detailing Clay Bar is a specially formulated clay compound that quickly and safely removes contaminants that are trapped on the paint surface. The clay works by 'grabbing' microscopic particles and pulling them free from the surface leaving an ultra smooth finish in preparation for polishing.
Part Number:AURCBKIT
Everything you need to remove surface contaminants from paintwork
If you are serious about your paintwork, you have probably heard of a clay bar.
The clay bar removes bonded contaminants, the stubborn deposits that stick to paintwork, dulling the finish and affecting the gloss.
The Clay Detailing Complete Kit will help you achieve an incredible silky finish. 
Contents:
500ml Rapid Detailer
100ml Super Resin Polish
1 x Premium Clay Bar
1 x Hi-Tech Finishing Cloth
Wash the vehicle with Bodywork Shampoo Conditioner and dry.
Break off a small piece of clay, knead and flatten it into the size of a large coin.
Ensure the vehicle is cool. Spray a generous amount of Rapid Detailer onto the clay and onto a small area of paintwork. Glide the clay lightly over the surface in straight lines.
Once the area feels smooth to the touch, wipe away any excess Rapid Detailer with the microfibre cloth and repeat the process on a new area, overlapping slightly with the previous section. Fold the clay frequently to expose a clean surface.
When complete, apply a coating of Super Resin Polish to the paintwork.