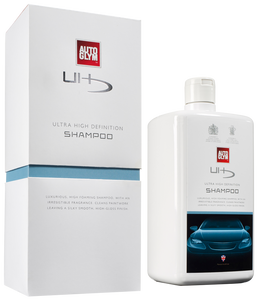 UHD SHAMPOO 1L
$3700

$37.00

SKU:

AURUHDSKIT001
---
---
Luxurious, high foaming shampoo, with an irresistible fragrance. Cleans paintwork leaving a silky smooth, high-gloss finish. 
Introducing Autoglym Ultra High Definition. Breathtaking finishes, luxuriously smooth with invigorating, sensual fragrances. Ultra High Definition products turn car care into pure pleasure.
Ultra High Definition Shampoo is a luxurious, high foaming shampoo that glides across paintwork for an effortless experience. The all new, pH neutral formula gently removes contaminants and road traffic film to produce a high-gloss finish that's incredibly smooth to the touch. That's the Autoglym way, always has been.
How to use:
Shake well. Pour 4 capfuls into a bucket and add 10 litres of warm or cold water.
Hose bodywork to rinse away excess dirt. Always work on a cool surface, shampooing the car from the roof down, moving the sponge or wash mitt in straight lines. Do not allow the shampoo to dry on the car.
Rinse well with clean water and dry with a Microfibre Drying Towel to prevent water spots.