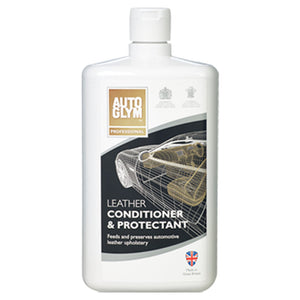 LEATHER & TRIM COND - 1L
FEEDS AND PRESERVES LEATHER CLEANS VINYL AND PLASTIC TRIM
- Ideal for leather upholstery and trim.
- Use on vinyl/plastic dashboards and trim to impart an enriched natural sheen.
-Silicone free.
- LEATHER. For heavily soiled leather first use Autoglym Interior Cleaner No 4.
- Apply with a soft cloth and massage each section until creaminess disappears.
- Allow to soak in and buff with clean cloth.
- VINYL & PLASTIC. Apply, allow to dry and buff with clean cotton cloths.