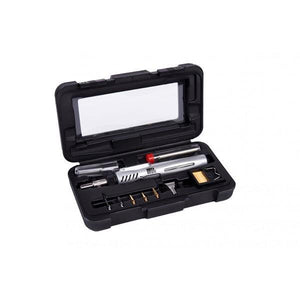 10 PIECE BLOW TORCH & SOLDERING IRON TRADE KIT
$6900

$69.00

SKU:

HD1959K
---
---
Refillable with purified butane gas
Auto ignition
1 hour burn time*
Soldering temp. 400°C
Torch temp. 1300°C
Blow Tip temp. 500°C
Heavy duty tips
Multi-function
*Not recommended to run the torch for more than 10 minutes at a time.
Kit includes
• Blow torch
• Soldering tip
• Hot knife tip
• Needle point tip
• Double edge tip
• Soldering/Engraving tip
• Solder Head
• Hot Blower
• Scoop
• Sturdy case
• Rosin core solder
• Cleaning sponge, tray and stand
Ideal for
Electrial work, Auto repairs, and DYI jobs around the office and home.