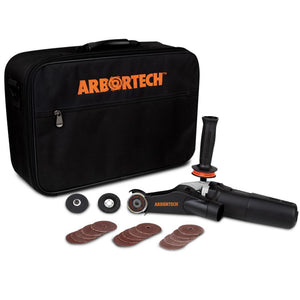 Arbortech Mini Grinder Trade
$35600

$356.00

SKU:

MIN.FG.610.00
---
---
Arbortech MIN.FG.610 Mini Grinding Trade
Includes:
Mini Grinder Trade 710W Power Tool
50mm Diamond Disc
50mm Grinding Disc
Rubber Pad (Sanding)
Sanding Discs (80, 180, 320 grit)
Dust Extraction Accessory
Arbortech Carry Bag
Features:
710W Grinder's extension arm is ideal for high visibility in hard to reach places, while the variable speed is helpful for controlling the aggressiveness in sanding and grinding.
Dust Collection Accessory will help you control harmful silica dust and minimise clean up of your work site.
50mm Grinding Disc is the ideal tool for metal working. The disc will allow you to clean up welds and grind or cut in places that can't be accessed with larger grinding discs.
50mm Diamond Disc is a versatile disc that allows you to perform tile cutting, regrouting, cement board cutting and stone carving with a single blade.
The Sanding System consists of a rubber backing pad and assorted grit sanding discs (80,180, 320). This is ideal for sanding timber, polishing metal and paint removal.