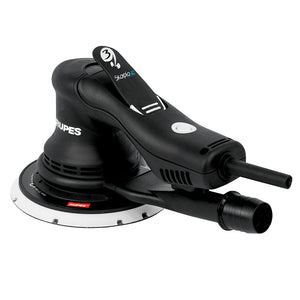 SKORPIO E ELECTRIC BRUSHLESS SANDER 3MM ORBIT C/W 9 MTR CABLE
$84900

$849.00

SKU:

RX253A/ST9
---
---
The SKORPIO E represents the first RUPES random orbital electric sander using advanced BRUSHLESS motor technology. A high efficiency brushless motor guarantees power and performance for virtually any application, maintaining the speed even under heavy load conditions.
The Skorpio E features optimised ergonomics which make it comfortable and easy to use, while the innovative design provides incredible manoeuvrability and balance to guarantee precise and efficient sanding results. The SKORPIO E is also quiet, extremely lightweight, and with a low vibration level maximizing operator comfort. Comes equipped with a 9m power lead.
The 3mm orbit is designed for finishing applications that use grade P320 and higher abrasives. The small orbit, combined with the high rpm and proper abrasives, delivers a high quality finish that is perfectly prepared for paints and other coatings.
Technical Specifications:
Orbit: 3mm
Backing Pad: 150mm
Backing Pad Thread: 5/16″
RPM: 4000-10000
Power: 250W
Weight: 1.2kgs
Cord: 9mm